Larry Kudlow writes
:
The Joint Economic Committee (JEC), spearheaded by

Texas

congressman

Kevin Brady, put out a report saying that the Obama recovery now ranks dead last in modern times. That's a real milestone in the post-WWII era. It's ten out of ten for both jobs and economic growth. According to the Bureau of Economic Analysis, real GDP has expanded only 6.7 percent over the eleven-quarter recovery since the recession ended. The Reagan recovery at the same stage had increased by 17.6 percent. The Clinton recovery by 8.7 percent.

As for jobs, the Bureau of Labor Statistics reports that the number of private-sector jobs has grown by only 4.1 percent since the cyclical low point. Reagan's record was 10.7 percent.

So much for Obamanomics. Didn't work. Still isn't working. As the JEC put it, spending stimulus, housing bailouts, auto bailouts, financial bailouts, cash for clunkers, cash for caulkers, and $5 trillion in

deficit

spending

left the Obama recovery dead last in modern times.
It's Bush's fault, and Kudlow's a racist (not really; merely channeling those for whom the BHO halo effect has yet to wear off).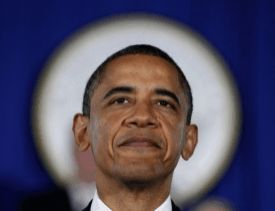 Halo to the chief screw-up