Here's the "artwork"/agit-prop in question: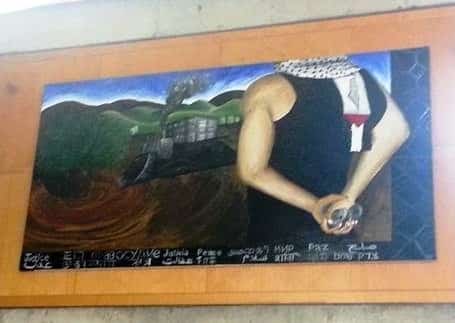 Had it been painted in the past few months, the rock would no doubt have been replaced with a knife.
When Bronfman, whose company supplied free filmmaking equipment to York students, complained about the painting, he got the typical runaround:
Mr. Bronfman said he had contacted the university administration and warned that he would withdraw his support if the mural did not come down. He said he was told that the administration had no authority over what was displayed in the student centre.
"They gave me a bunch of political rhetoric … a bunch of political nonsense."
The mural/invitation to incitement is staying put, however, because blah, blah, blah:
"Mr. Bronfman has notified York University of the withdrawal of this support," university spokeswoman Joanne Rider confirmed.
She said legal and human-rights experts advised the administration that it cannot force the removal of the painting.
The mural falls under the jurisdiction of the student centre, said Gayle McFadden, vice-president, operations, of the York Federation of Students.
"This artwork is not hateful and is the artist's depiction of the resistance to the occupation of Palestinian land," Ms. McFadden, who is also chair of the York University Student Centre, said in an e-mail to The Globe and Mail.
"This painting is not anti-Semitic, as it is merely critical of the state of Israel and its continued occupation of Palestine."
Au contraire, Ms. McFadden. The painting is a manifestation and an example of Zionhass, the Jew-hate of our time which incorporates and is often fueled by a hatred of Israel, the Jewish State. The haters, who more often than not are hardened leftists and even Marxists, are convinced they are the side of the angels. They are not. They are on the side of Arab eliminationists who are upset that Hitler didn't manage to complete his global Judenrein scheme, and who, for religious reasons, refuse to countenance the existence of a sovereign Jewish nation on land claimed in perpetuity for Allah.
These Zion-loathers always--always--claim that Jew-hate is not a factor, that what they really care about is the "occupation."
They are either blind or idiotic or in denial.
Or all three.
Update: "This Piece of art depicts the relationship between the defenseless, the antagonist and the "other".
Yeah, right. This "Piece of art" depicts an Arab eliminationist who wants to throw a rock and kill a Jew.