I just learned that today is "Freedom Day," a Friends of Simon Wiesenthal Center-sponsored annual event for Toronto High School kids:
The media is invited to join 3,000 middle and high school students from the GTA and beyond at the Friends of Simon Wiesenthal Center's (FSWC) third annual Freedom Day event on September 20 from 12:00 - 1:30 p.m. at Yonge-Dundas Square.
Freedom Day is designed to celebrate Canada's rights and freedoms, commemorate the life and legacy of Simon Wiesenthal, raise awareness about human rights and empower youth to effect positive change. This year's keynote speaker will be Dr. Samantha Nutt, award-winning humanitarian, Founder of War Child Canada, acclaimed author and speaker and a leading authority on the impact of war on civilians. Dr. Nutt will be joined by Dr. Frank Chalk, Director of the Montreal Institute for Genocide Studies, Professor of History at Concordia University and one of the world's leading experts on genocide and humanitarian intervention...
That's fine as far as it goes, but do they really think they're likely to make headway re "human rights" and empowerment that aims to effect positive change with chicks wearing burqas? (FYI, the photo below was "tweeted" by the Ontario Human Rights Commission.)
Well, at least, unlike their positioning during prayer-time at the Toronto public school mosqueteria, the chicks in this pic aren't consigned to the back.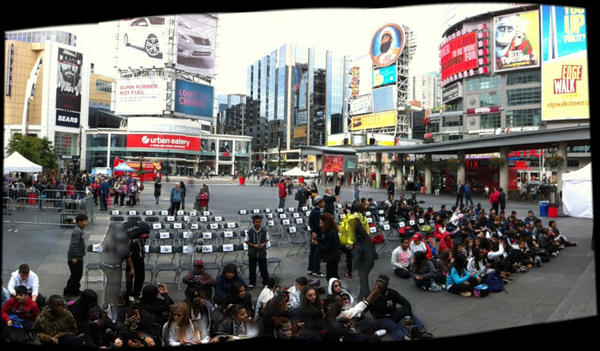 Update: The above photo put me in mind of
a series of photos showing women graduates in Egypt
.